Certified Balloon Artist (CBA) and Qualatex Approved Instructor (QAI)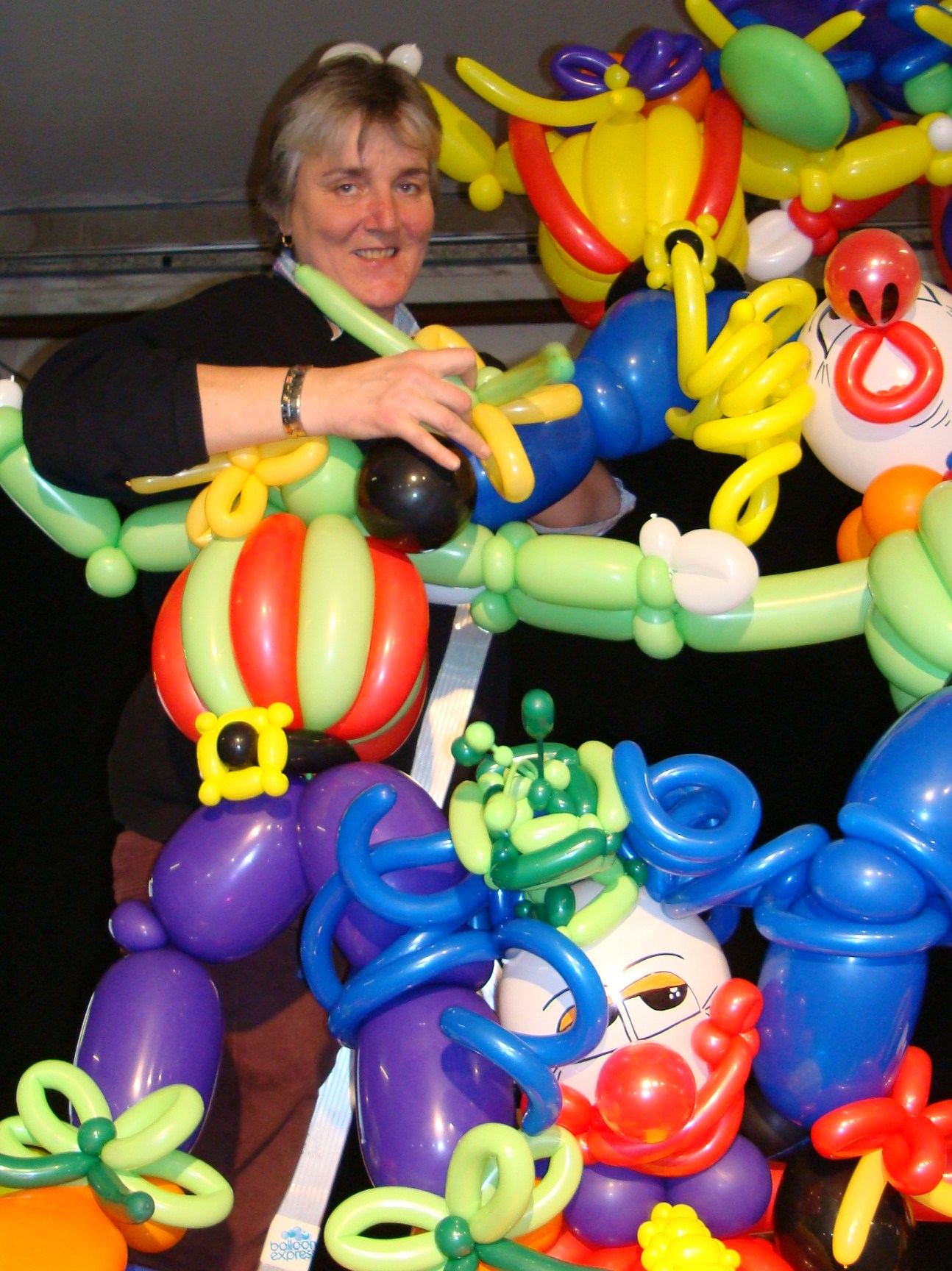 I have been a balloon decorator since 1999 when I visited the International Party & Halloween show in Birmingham England. I was amazed and immediately hooked with the fantastic balloon competition pieces and decor, especially the large sculptures.

My husband Rodney persuaded me to join him in his shop which sold candles and essential oils, hence the name of our old party shop, Burning Desires in Portadown Northern Ireland. That's how I ended up at the International Halloween and Party show in England, looking for new things to sell in the shop.

I was so enthused with the balloon creations I had seen that Santa brought me a Conwin Precision Air inflator for Christmas and I got my first big decorating job in the Meadows centre shopping mall for the New Year and the following year I took my CBA exam.

By now the shop was getting busier and we started bringing in more balloons and party ware. Very quickly the balloon business was booming and we outgrew our small shop in the mall and decided to move to much larger premises at a busy junction on the high street, with parking very close by.

We had identified three main areas to expand. Balloons, Fancy dress & Accessories and Hen night gear, so after working long hours to get the business established, I was able to find time to design some competition pieces of my own.

I started competing in 2002 and have been doing so ever since.



- Yer man 2nd place non-round IPHS 2002
- Ferrari 1st place Italian Masters BACI 2003
- Decorator of the year IPHS 2003
- Isis The gold medal Qualatex event 2003
- Qualatex Retailer of the Year2003/4 Qualatex event 2003
- Pipes and drums IBAC 2004
- Gondoliers 3rd place BACI 2004
- Guinness pint 2nd place BACI 2005
- Sumo man The gold medal Qualatex event 2005
- Tropical paradise The gold medal.
- Fiona Fisher & Colin Myles. Joint decorator of the year Qualatex event 2005
- Venetian mask 3rd place BACI 2006
- Indian Elephant 2nd place BACI 2007
- Oh Acrobatico Fantastico 2nd place BACI 2010
- Photo Gallery



I have often been asked, why I still compete, the answer is simple. Apart from the challenge of creating a large sculpture, the photographs of all these pieces in my portfolio really impress corporate clients when I am trying to get work in places like shopping centers.

In 2003 I became a QAI ( Qualatex Approved Instructor ) and started a new arm to the business, Balloon Academy Ireland. I still teach Balloon training in Dublin and Cork Ireland for Irish Party Supplies in Ashbourne www.irishpartysupplies.ie plus private tuition. In Manchester England for Balloon World in Haydock www.balloonworld.co.uk . Pioneeer Europe in London and others.

I love sharing my knowledge of the industry with everyone entering the business and as well as teaching a lot in Ireland and England, I have been fortunate enough to teach balloon decorating in Japan, Taiwan, Lebanon, Argentina, Trinidad, Poland, France, Holland, Malta, Serbia, USA, Germany and many times in my favourite city and country, Florence-Italy at BACI (Balloon artists convention International).

The Tuscan dream is happening for me, so now I can concentrate on running my new Balloon training school in Tuscany Italy, sharing my experiences and helping others to achieve their dreams, the added bonus is that you get to stay in a very beautiful place and sample the food and wines that have made Tuscany a household name throughout the world.

Welcome to Balloons in Tuscany, a balloon academy that's a lot different to others.

Fiona Fisher CBA
---
The most popular questions asked and topics covered in balloon training courses have been (In no particular order):-
Why I chose balloon decorating as a career.
Why I moved from Burning Desires in Portadown Northern Ireland to Balloons in Tuscany Lucca Tuscana Italy.



Balloon training classes for beginners



Qualatex Fundamentals course. Balloon gas safety. How to properly inflate a balloon. How to easily tie a balloon. How to join balloons together. Using High float to make balloons float longer. How to join the Qualatex Balloon Network. How to be a CBA "Certified Balloon Artist".

Wedding balloon training

Top table decoration. Entrance decor. Cake table decor. Balloon columns. Balloon swags. Balloon arches. Pearl arches. Centrepieces. Exploding balloons. Confetti balloons. Balloon drops. Balloon releases. Using foil balloons. Double bubbles. Bubble balloons. Bride & Groom sculptures. Heart shaped balloons. Stuffed balloons. Balloon canopies. Cloud nines. Fantasy clouds. Using big 3ft balloons. Hot air balloons with teddy bears. Gift in a balloon.



Balloon modelling course



Curly balloons. Working with long balloons. Twisting balloons for a living. Balloon animals and characters. Deco twisting.



Setting up your own balloon business class



Setting up a home based balloon business. Money making ideas for home based balloon artists. How can I make money selling modelling balloons? Balloon training for corporate clients. Advice on starting your own retail shop selling balloons. How to improve your sales. Marketing hints and tips. The importance of having a web site.



Classic balloon decorating training



Balloons in shopping malls. Balloons for corporate events. How to make perfect swags columns and arches. Looking for the big jobs. Creating a big impact for customers.



Fiona's garden people



Making different sizes for different themes and events. Bride and Groom balloons.



Retail therapy



Complimenting flowers with balloons. What's involved in setting up a retail shop. Advice on where to buy balloons, Combining costumes and accessories and a Hen night shop. What insurance you need. The benefits of joining, Bapia, Nabas, Balloonhq etc. How entering competitions improves your sales. Why attending balloon events like, World Balloon Convention. BACI. Sunny Twist. Millennium Jam. Twist and Shout. Qualatex Events. Tjam. JBAN. and others, greatly improves your skills.



Event decorating



The most popular balloons to use for Valentine's. Halloween. New Year. Christmas. Easter. St Patricks day. Birthday balloons. Christening and Baby shower balloons.

---
Footnote

Linda Bruce. Federico Onida. Sue Marston Weston.John Bowler. Tope Abulude. Jack Lever. Roberta Tincani Lever. Fabrizio Bolzoni. Colin Myles. Alberto Falcone. Vanessa Lever. Alex Shephard. Peggy Butland. Federico Onida. Dee White. Ian Herd. Ken Stillman. John Preston. Luc Bertrand. Gill McGregor. Nico Fric. Jodie Norris. Dennis Hogers. Dave Stanbridge. Royal Sorell. Alex Arroyo. Dave Bartlett. Chris Horne. Azusa Ieizumi. Akane Shibata. Don Caldwell. Lucy Hennessy. Marvin Hardy. Doctor Bob. Treb Heining. Andrea Cerofolini. Lois Devlin. Enza Mondella. Alessandro Patane. Lucy Hennessy. Manon. Tamami Ono. Cam Woody. Soo Chin. Itamar. Mark Osborne. Biggi Osborne. Marie Mandoli. Ladona Belcher. Kieth Burchette. Wynn & Lindy Bell. Mary Queen & Graham Rouse. Mike Wing. David Nelson. Rocky Toomey. Chuck & Joyce Gruberman. Betty Vlamis. Ted Vlamis. Larry Moss. Tim Vlamis. Bruce Walden. Ted J Vlamis. Vicky Kimble. Robbie Furman. Brian Asman. Jean Eddy. Stephen Mayhew. Bidou. Jim Parker. Jim Skitmas. Amanda Armstrong. David Taylor. Tom Bibo Saeys. Sue Bowler. Pat Billups. Connie Iden-Monds. Melody Yesberg. George Quintero. Peter Lacagno. Hyun-Gu "Beating" Park. Rie Hosoka. Shirley Ray. Allen Stay. Andrew McDonald. Anna Bubnova. Asi Cohen. Barbara Biagioni. Filippo Ercolini. Chelsea Ott-Gaspard. Dan Flynn. David de Bustos. Debbie Magill. Dmitriy Tishenko. Ed Chee. Enza Mondello. Julie Conner. Leo Verlinden. Linda Carling. Mark Drury. Ori Livney. Rodney Fisher. Amanda Copeman. Margaret Thompson. Howard Li. Carmel Galea. Sharon Galea. Claudio Widmann. Federico Widmann. David Scales. Siobhan O'rourk. If I have forgotten someone, please don't be offended, it's not intentional. Just let me know. Companies that have supplied and worked with us for a long time. Pioneer balloon company. Pioneer Europe ltd. Balloon Express srl. Conwin Inc. Widmann srl. Smiffy's. Alandra. Belle balloon Co. Balloon world. Budget greeting cards. Pams. Hi-float. Premium balloon accessories. Rubies. Cool gifts. Emily's balloons. Club green. Kelly flowers. Alcoa. Sparks in colour. Sunset signs. Palmer agencies. Irish party supplies. NABAS. BAPIAonline. Madparty.co.uk. Partyallsorts. D & J Group. Balloons by Robbie. Party goods Malta. Houses in Tuscany. Battlefield Rest. Partyallsorts Dungannon. Balloon Express shop Fornaci.