Fiona Fisher
Certified Balloon Artist QAI
Qualatex Approved Instructor QAA
Qualatex Approved Assessor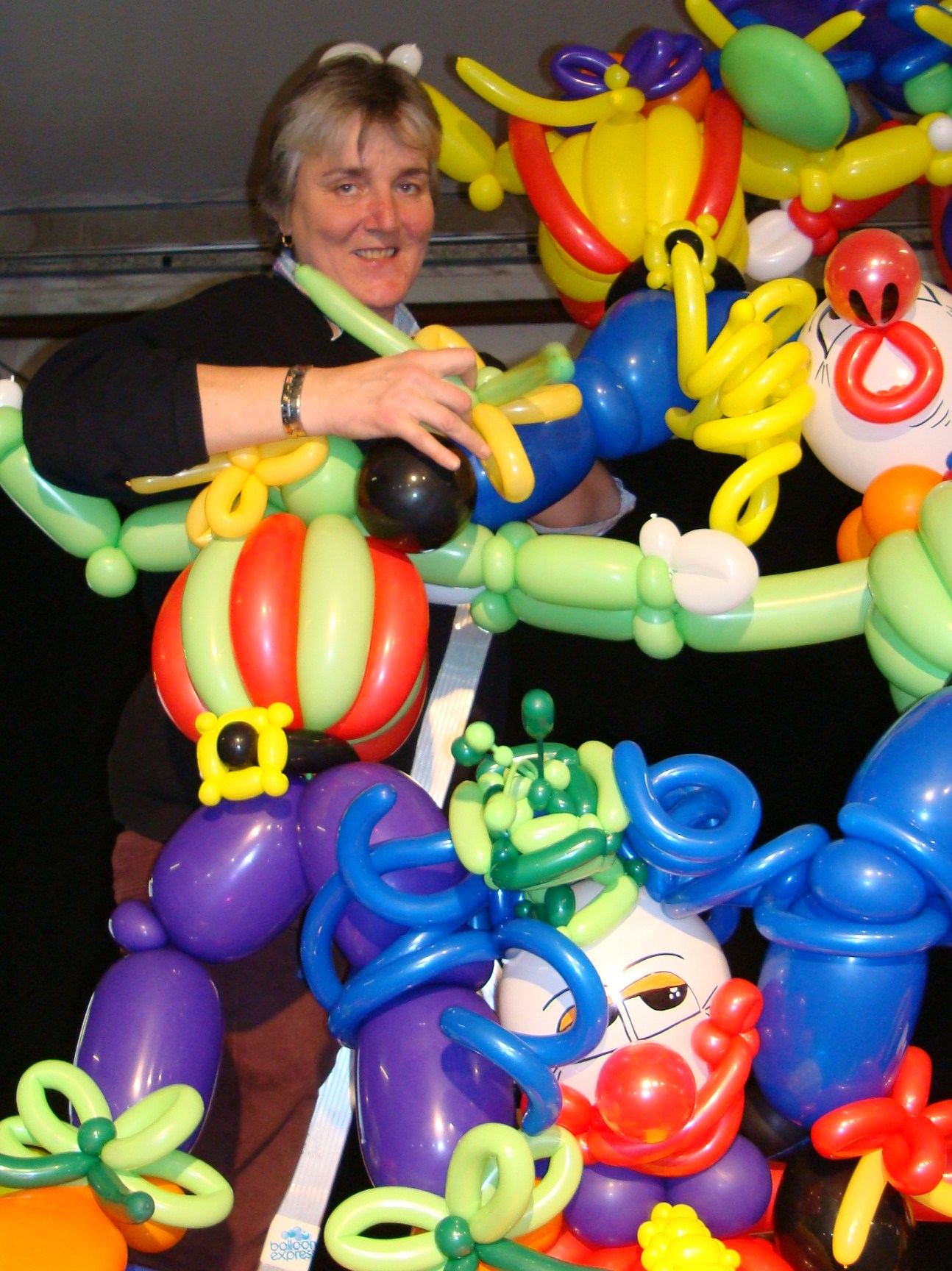 Start your own balloon decorating business
Start your own business - Be your own boss - Work from home - Part time work or full time employment.
Don't waste a year crawling when you can be up and running in a few weeks. Take a three or four day balloon decorating starter course and you will be ready to set up your own business in no time at all. Choose to work in one of the most rewarding business you can imagine. Any event or occasion can be enhanced with balloons. Balloon decorating is not just about making money, it's about enjoying what you are doing whilst making the money. You can be part of a worldwide industry for minimal set up costs and be up and going in weeks.
have been self employed for all of my working life and I have enjoyed every minute of it, especially when I took up balloon decorating in 1998. Since then I have run a very successful balloon decorating and party business, decorating for all sorts of occasions. Like everyone entering the balloon decorating world, I started off doing decor for weddings, christenings and birthday parties, but soon progressed to much larger corporate jobs in shopping malls, hotels and larger venues. See our gallery.
The beauty of balloon decorating is that you can run the business from home by yourself, or you can open a full service party shop offering balloon decorating, fancy dress, hen night gear and all sorts of wonderful party products. In 2003 I was asked to teach balloon decorating by my local balloon supplier in Belfast, since then, I have travelled the world teaching at balloon conventions and seminars for Pioneer Balloon Company and Conwin Inc. as well as running my own balloon academy.
In 2008 I sold my party shop and set up my new business in the beautiful Garfagnana valley of Tuscany, where I now spend most of my time teaching others "in my own home" how to set up their own balloon decorating businesses and party shops, plus running courses for people who are already in the business and want to learn new decorating skills and ideas to enhance their sales.
Starting your own business as a balloon decorator "part time or full time" is a great way to earn extra money or make a full time living. You might just want some extra income for weekend work or the potential of earning a lot of money working full time from home. Like any small business, you have to work hard to get established and once you start reaping the financial rewards, you can expand your business around the amount of time you have available to work. As a Qualatex approved training provider, I can teach you everything you need to know to get your business up and running. Not just how to make the creations and designs that will be your best sellers, but all the information you need on how to price your work, marketing your business and where to buy everything you need to get going at the right price.
In the hands on courses I teach, you will learn how to create best selling decorating designs for Weddings, Christenings, Birthday parties or any other theme you would like. A camera is essential to take photographs of your own work and start to build your portfolio. You will see how to get going using the minimum amount of equipment and also the benefits to your business of using some of the fantastic equipment you can buy once you are established. I will concentrate on teaching you HOW to do the work properly and then you can buy everything you need from the supplier who gives you the best deal, there are lots of suppliers who would love your business.
I recommend at least a three day course for anyone setting up a new business, four days would be better but it depends on your budget. The Start your own Balloon Decorating business course includes.
Day 1 - Qualatex Fundamentals. This is a "Certified" course that will give you all the basic information and decorating skills you need to start as a balloon decorator.
Day 2 - Wedding Foundations. This will teach you all the designs and techniques to get going in the wedding decor business.
Day 3 - A mix of designs for lots of other occasions, birthdays, christenings etc. including an introduction to classic decor. Also during the three days Class notes covering all the topics and designs for each day - How to maximise your profits - Information on where to find the best wholesale gas and balloon suppliers - Low cost insurance for your business - Trade magazines - Associations that can help you - The best web sites for design ideas - Conventions - Trade shows - Discounts from suppliers - Building your portfolio - Joining the Qualatex Balloon Network "QBN" - How to become a "CBA" Certified Balloon Artist - How to get new and repeat business and lots more.
It's your business, so with One to One Hands-on tuition, you can choose other themes if the classes above are not exactly what you need. Everything will be tailored to your specific requirements. The cost for one to one Hands-on tuition for a three day course (four nights) is £1195.00 and is fully inclusive of all balloon product, accommodation and all meals, plus collection from and return to, Pisa airport or Lucca train station. You have to make your own travel arrangements to get to these points.
If you would like to bring a partner or friend who will be taking the same course there is a discount of £50.00 per person sharing per day.
If you would like to bring a partner or friend for company who will not be taking the course the extra cost is £100.00 per day per person sharing, which includes accommodation and all meals.
Your accommodation will be in our restored 18th century farmhouse in the centre of one of the most scenic areas of Tuscany. When you have finished working for the day you can sit back and relax before joining us for some traditional regional dishes and locally produced wines. Sample the delights of Tuscany. Extra nights can be added to your stay if you would like to explore the beautiful Garfagnana region of Tuscany in more detail, or just chill out, read, or go for long walks in the beautiful forests and villages. Extra nights £100.00 per person per night, Inclusive of all meals.
For more information or to make a booking. Email Fiona@balloonsintuscany.com or Tel. 00 390583618429 or Cell. 00 393314486799